8 Days Central Tibet and Namtso Tour
2015-12-28 15:59:20 | From:China Tibet Online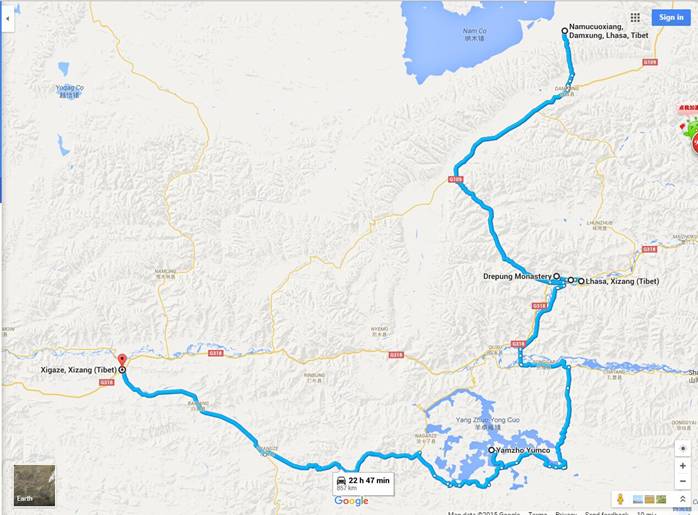 Outline:
Tour Length: 8 Days & 7 Nights
Best Time to Visit Tibet: All the year round
Physical Demands: Easy - suitable for all level of fitness, family with kids and senior groups
Main activities: Sightseeing
Trip Overview:
Enjoy this multi-dayTibet tourand explore Tibet through some of its impressive sights: Potala Palaces, Jokhang temples, Drepung and Sera monastery, snow-capped mountains of Nyenchen Thanglha and holy lakes Yamdrok, real Tibetan villages and nomads. Lhasa is one of the highest cities in the world with the altitude of about 3600 meters and prides the world-highest salt lake Namtso. Tourists will also visit the mystical Buddhist monasteries of the Kumbum Stupa in Gyantse, Tashilhunpho monastery in Shigatse.
At a Glance
Day 1 Arrive in Lhasa(3650m)
Day 2 Lhasa tour - Potala Palace, Jokhang Temple, Barkhor Street
Day 3 Lhasa tour - Drepung Monastery, Sera Monastery
Day 4 Lhasa(3650m)-Namtso Lake(4718m) via Nyenchen Thanglha Ranges
Day 5 Namtso(4718m) - Lhasa(3650m) via Yangpachen hotspring
Day 6 Lhasa - Shigatse(3900) via Yamdro Lake,Karo Glacier,Gyantse
Day 7 Shigatse (3900m) - Lhasa (3650m) with Tashi Lhunpho Monastery
Day 8 Depart from Lhasa
Day by Day Itinerary
Day 1: Arrival in Lhasa.
After arriving in Lhasa, tourist can take a rest and get acclimatized to high altitude or feel free to go to Potala Square, enjoy the fountain with different colors and get amazing photos of the Potala and around.
Day 2: Lhasa City, Potala Place and Barkhor Street (B, D)
The tour will begin from UNESCO World Heritage site - Potala Palace, which is also the winter palace of Dalai Lama. It's situated at 12,139 feet above sea level. It's a 13-story high building that contains over 1,000 rooms, various statues, stupas, murals and artifacts.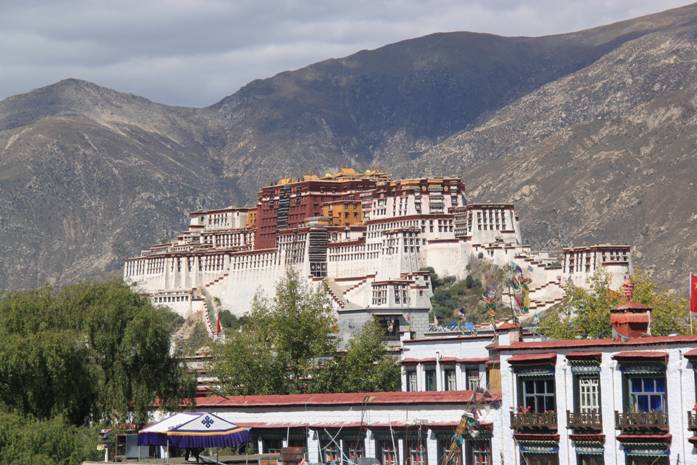 Potala Palace
Then continue to Jokhang Temple, another UNESCO World Heritage site. It's a spiritual center for Buddhists in Tibet. Next to the temple there is Bakhor Street, filled with pilgrims and street vendors, selling traditional Tibetan items such as prayer wheels and jewelry.
Day 3: Monasteries in Lhasa(Drepung and Sera)(B)
In the morning, tourists are going to visit Drepung monastery which was one of the "three greet" Gelug monasteries of Tibet and was founded in 1416 . Ganden palace is used as Dalai Lama's palace in the Drepung before moving to the Potala palace.
Afternoon, Sera Monastery---It was one of the "three great" Gelug monasteries of Tibet and was founded in 1419 . The highlight is the Monks debate at around 3 - 5 in the afternoon.
Day 4: Namtso Lake (4718m) (B)
Drive to Namtso Lake. It is the "Heavenly Lake" which is one of the four holy lakes of Tibet and also the highest salt lake. Tourists can do a very relaxing trek around the lake and Tashi Island.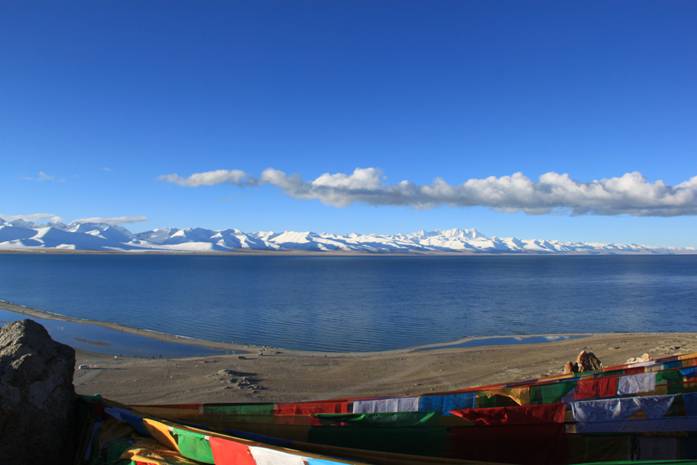 Namtso Lake
Day 5: Namtso - Lhasa (B)
Enjoy the clear morning at the lake shore, and trek along the lake shore to Tashi Dor Island to explore the meditation caves. Then drive to Dumxung to have lunch. In the afternoon, tourists may enjoy Yangpachen hot spring (optional) which has both indoor and outdoor swimming pool filled with hot springs´ water. Then drive back to Lhasa.
Day 6: Lhasa - Shigatse (B)
Travel to Gyantse. On the way, tourists will catch a glimpse of Yamdrok-tso (4400m) .The Lake is surrounded by many snow-capped mountains and in the distance you can enjoy spectacular views of Holy Mountain Nyenchen Khangsar, (7191m) - the highest mountain near Lhasa. Afterwards, head to visit the famous Pelkor Monastery (also known as Gyantse Kumbum). After one and a half hour's driving, clients will arrive to Shigatse, which is the second largest city in Tibet.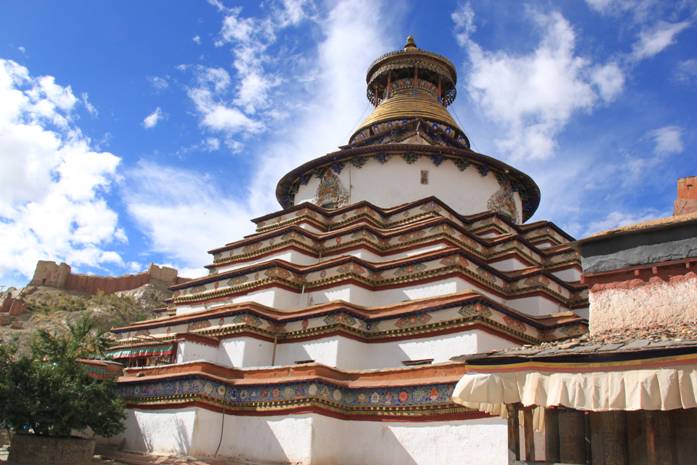 Gyantse Kumbum
Day 7: Shigatse - Lhasa (B)
In the morning, visit Tashilunpo monastery of Gelug Sect - the seat of the Panchen Lama, built in 1447. The monastery houses a giant statue of the Maitreya Buddha - the biggest gilded statue of Maitreya (Buddha of the future) in the world and a tomb of all the Panchen Lama containing plenty of jewels and gold. In the afternoon, clients will go back to Lhasa.
Day 8: Depart from Lhasa (B)
Transfer clients to the airport or train station.
Visa and Permit:
To enter Tibet, a visa for China is necessary; the standard tourist visa is valid for 30 days. Independent travelers in Tibet are not allowed. Therefore one still needs to be part of an organized tour, at least with a tour guide and Tibet Travel Permit. Tourists can ask Tibet travel agency for help, we recommended Tibet Vista(www.tibettravel.org), a local Tibet travel agency offering various kinds of Tibet tours, they have rich experiences in Tibet tour and Tibet Travel Permit. Their Contact:inquiry@tibettravel.org
Related News
;  

Gyantse carpets are the most prestigious of Tibetan carpets. Gyantse carpets are also known as Gyantse mats and they already have a history of more than 600 years. Cotton yarn is used to make the warp and wool is used to make the weft.

 

Tibet is known as the place near heaven with extreme sacredness and beauty attracting many tourists. What are the specialties of such a place, full of mystery and color?

 

In 2011, Tibet's tourism authorities officially launched a winter travel promotional campaign. Recently it launched the following seven tour routes and two special travel programs: