Tibet promotes mobile payments to create Smart City
2018-05-07 09:43:34 | From:China Tibet Online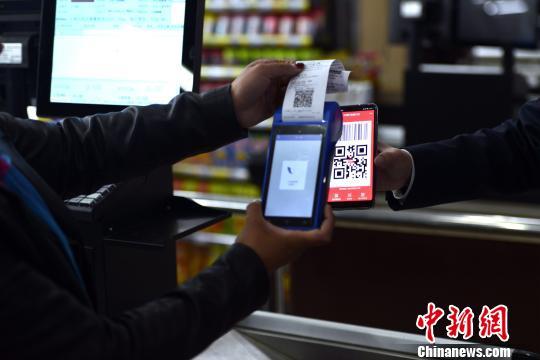 A businessman uses the "Yun Shan Fu" ("Cloud Flash Payment") APP to scan a QR code to receive payment.
Since the payment APP Cloud Flash Payment was released by the Chinese banking industry in December 2017, the APP has been downloaded more than 30,000 times in Tibet, according to statistics from the Central Lhasa Branch of the People's Bank of China. This has provided a guarantee for the mobile payment convenience service of the city aiming to create itself as a smart city.
Hui Wanjiang, head of the Central Lhasa Branch of the People's Bank of China, said that this payment APP, which is being pushed by the People's Bank of China, is already being used for transactions in Lhasa's vegetable markets, parking lots, and other payment sites. This year, the APP will also be used to pay for things like public transportation, business taxes, public services, medical and health services, traffic penalty fines, and school campus fees.
Hui Wanjiang said that the Cloud Flash Payment APP does not retain the information provided when users register an account, register a bankcard, or verify their identity. For payments under RMB 1,000, users do not need to sign or enter passwords when paying; therefore, the APP is more secure than other mobile payment platforms.
The Cloud Flash Payment APP is currently being promoted in Tibetan cities including Lhasa, Nyingchi, Lhoka, and Shigatse.