Farmers and herdsmen from all over Tibet start pilgrimages to Lhasa
2016-01-04 11:46:37 | From:Xinhua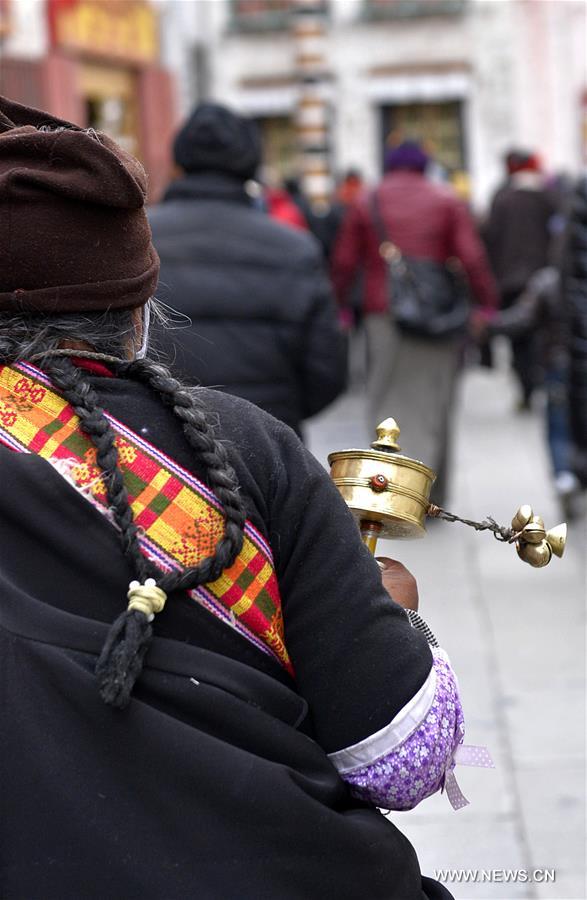 A woman spins prayer wheels nearby the Jokhang Temple in Lhasa, capital of southwest China's Tibet Autonomous Region, Jan. 3, 2016. When slack farming season comes, farmers and herdsmen from all over Tibet start their pilgrimages to Lhasa, during which they spent months kowtowing along the roads, around mountains and spinning prayer wheels, just to pray and worship. [Photo/Xinhua]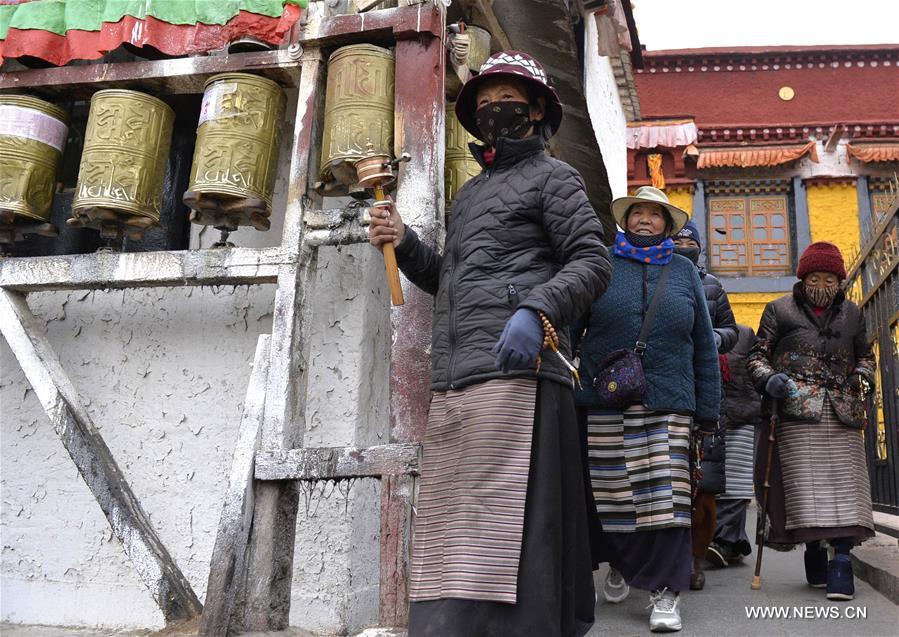 A woman spins prayer wheels nearby the Jokhang Temple in Lhasa, capital of southwest China's Tibet Autonomous Region, Jan. 3, 2016. When slack farming season comes, farmers and herdsmen from all over Tibet start their pilgrimages to Lhasa, during which they spent months kowtowing along the roads, around mountains and spinning prayer wheels, just to pray and worship. [Photo/Xinhua]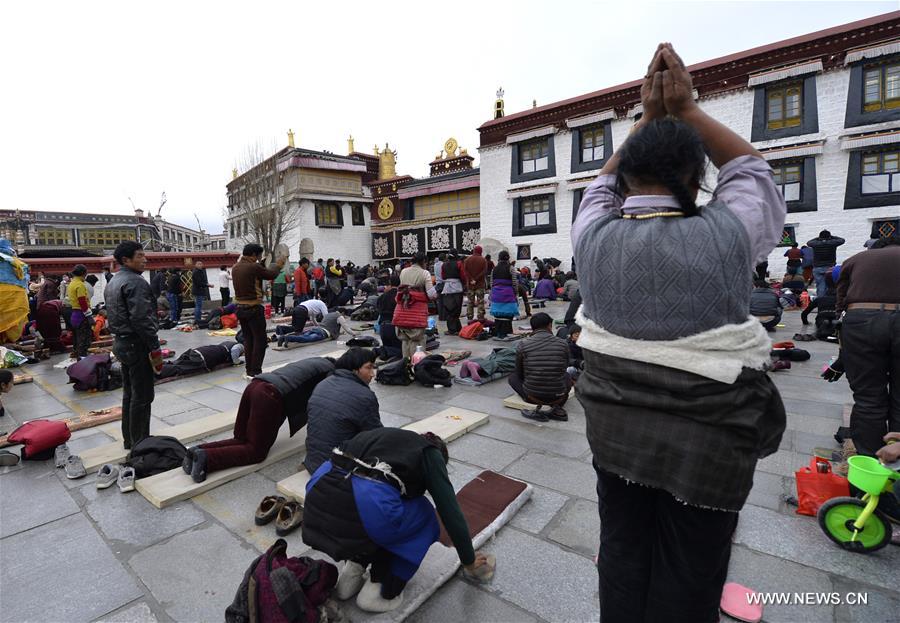 Pilgrims pray at the entrance of the Jokhang Temple in Lhasa, capital of southwest China's Tibet Autonomous Region, Jan. 3, 2016. When slack farming season comes, farmers and herdsmen from all over Tibet start their pilgrimages to Lhasa, during which they spent months kowtowing along the roads, around mountains and spinning prayer wheels, just to pray and worship. [Photo/Xinhua]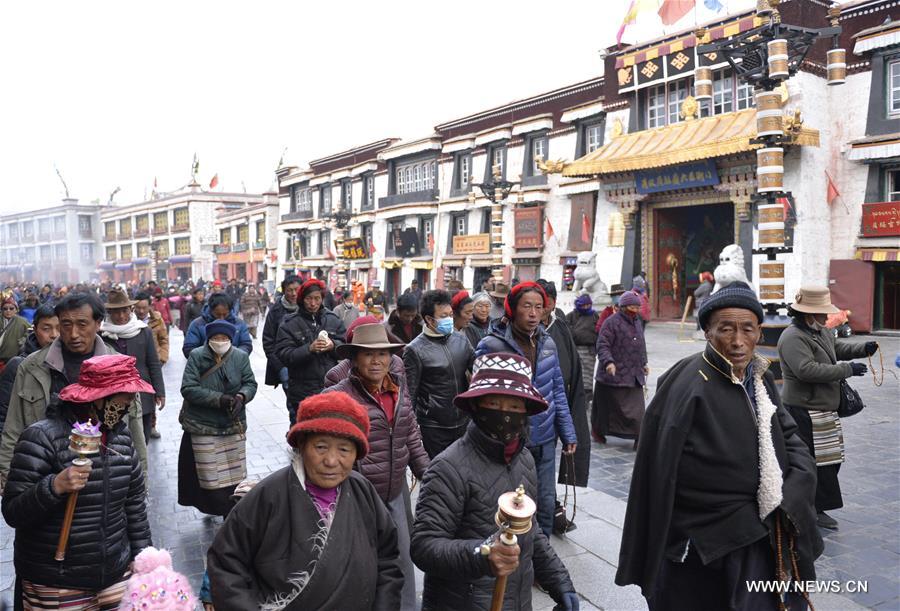 Pilgrims spin prayer wheels nearby the Jokhang Temple in Lhasa, capital of southwest China's Tibet Autonomous Region, Jan. 3, 2016. When slack farming season comes, farmers and herdsmen from all over Tibet start their pilgrimages to Lhasa, during which they spent months kowtowing along the roads, around mountains and spinning prayer wheels, just to pray and worship. [Photo/Xinhua]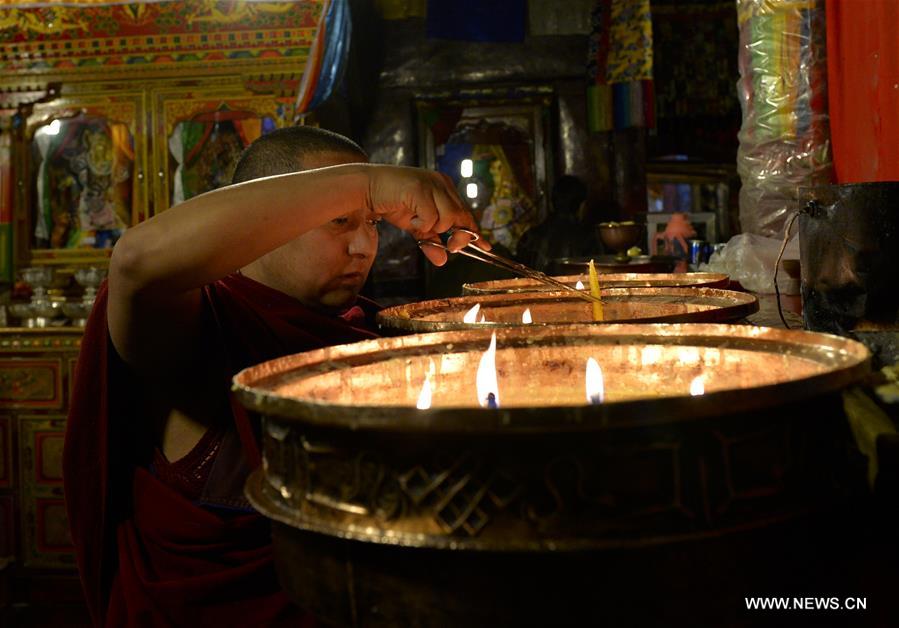 A monk lights a lamp in the Ramogia Monastery in Lhasa, capital of southwest China's Tibet Autonomous Region, Jan. 3, 2016. When slack farming season comes, farmers and herdsmen from all over Tibet start their pilgrimages to Lhasa, during which they spent months kowtowing along the roads, around mountains and spinning prayer wheels, just to pray and worship. [Photo/Xinhua]
Editor: Lily Li
Related News
;  

Meng Fanhua believes that the greatest achievement of his life was completing a two-day walk around the base of Mount Kailash, a holy mountain in Ngari prefecture, in western Tibet, last year.

 

The last batch of 51 Indian pilgrims left Tibet using the recently opened Nathu La Pass on Thursday morning, marking the end of this year's pilgrimage.

 

Pilgrims pray as they walk around the Namtso or Lake Nam, a Tibetan ceremony to pray for blessings, between Damxung County and Baingoin County in Nagqu Prefecture, southwest China's Tibet Autonomous Region, Aug. 10, 2015.