Tibet's 2nd largest hydropower station to be built
2015-12-29 10:15:04 | From:China Tibet Online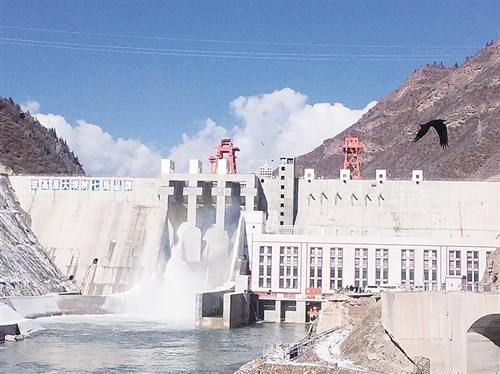 Photo taken on Dec. 27 shows an eagle flowing over the about-to-be completed Guoduo Hydroelectric Station. [Photo/Ce.cn]
The Guoduo Hydropower Station is located on the Dachu River, a tributary of the Lancang River's upper reaches. It is Tibet's second largest under-construction power generation station with a total investment of 3.833 billion yuan (618.2 million US dollars).
Once completed, this hydropower project will have a total installed capacity of 165,000 kilowatts of electricity, and an annual generating capacity of 831.9 million kilowatts.
Other than this project, the Qamdo City of Tibet plans to construct 49 cascade hydropower stations that have a total installed capacity of 35.85 million kilowatts throughout the Jinsha, Lancang and Ngulchu river basins as well as along their mainstreams and tributaries.
Related News
;  

China's Tibet Autonomous Region has delivered 330 million kilowatt-hour of electricity to neighboring Qinghai.

 

Up to now, Tibet has transmitted totally 330 million kwh of hydropower outwards.

 

The surplus in Tibet central electric grid and hydropower delivery has normalized.