Lulang int'l tourist town to open next May
2015-12-15 14:28:28 | From:China Tibet Online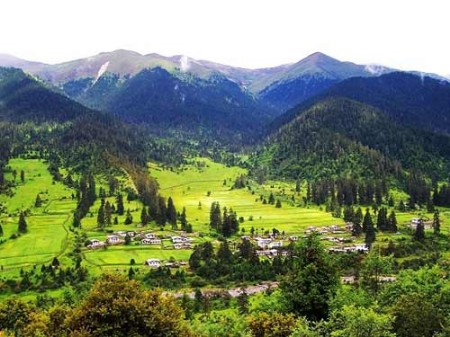 Lulang Town in Tibet's Nyingchi Prefecture[Photo/China Tibet Online]
"Lulang international tourist town" will have a trial operation in May of 2006, China Tibet News reported.
Located in Nyingchi Prefecture, Lulang, has a reputation as a "natural oxygen bar" and is known as "Switzerland of the Orient". It is surrounded by glaciers and forests; the air is warm and humid; and it is rich in natural resources. Lulang town is also the focal tourist development project of Guangdong Province with the total investment has exceeded 3 billion yuan.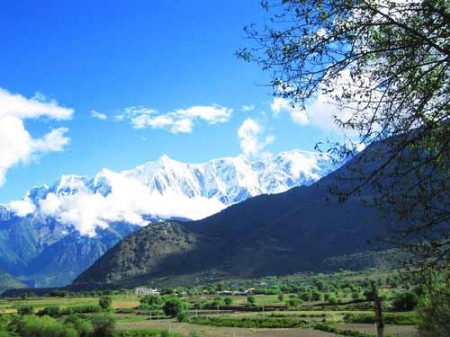 Lulang Town in Tibet's Nyingchi Prefecture[Photo/China Tibet Online]
Chen Keshi, "Lulang international tourist town" design team leader and professor at Peking University's Urban Design Research Center said that, during the design process, they paid close attention to the ethnic features of Tibetan culture. The aim is to create an important tourist landmark and build a five-star hotel area, amongst other tourist facilities, focus on using new technologies, new materials and new methods to enhance the level of urbanization in Lulang town, integrate the concept of ecological development, and allow Lulang to be a unique small town demonstration project.
Cai Jiahua, head of the seventh Guangdong aid-Tibet team said that in 2011 the team proposed to builid Lulang into a famous tourist town by 2016. Construction of Lulang started in March 2013 and the main part will be completed by the end of this year. It will be officially operated on National Day next year with an estimated daily capacity of 6,000 people.
Related News
;  

Gyantse carpets are the most prestigious of Tibetan carpets. Gyantse carpets are also known as Gyantse mats and they already have a history of more than 600 years. Cotton yarn is used to make the warp and wool is used to make the weft.

 

A tourism promotion campaign themed "Exploring Mt. Qomolangma in Tibet winter tour" will take place in south Tibet's Shigatse on Nov. 27, 2015, Tibet Business Daily reported.

 

Pumaqangtang Township with the elevation of 5,375 meters is located in southwest of Nakartse Country in Lhoka of Tibet,neigboring with Bhutan.