Climbers must carry trash down Mt. Qomolangma
2018-05-04 10:39:34 | From:China Tibet Online
Mountain Qomolangma, or known as Mt. Everest in the west, is a destination for mountaineering enthusiasts from all over the world, and on April 30, the annual climbing season for the mountain was officially launched.
At the same time, a garbage removal initiative has commenced on the northern side of Mt. Qomolangma, as well as the establishment of a high-altitude waste removal mechanism aimed at environmental protection. Climbers will be asked to carry trash back down the mountain during their descent. Locals have also organized high mountain environmental protection teams to share in the task of protecting the ecological environment of Mt. Qomolangma.
In recent years, Tibet's Tingri County near the north side of Mt. Qomolangma has organized a number of waste cleaning activities along with local residents and international mountaineering enthusiasts in the area.
Climbers from 20 different countries including the U.S., Italy, Spain, the U.K., and Switzerland have picked up trash along the climbing routes. The China National Mountaineering Team and other teams also provide local residents with jobs as environmental cleaners, which helps drive farmers and nomads out of poverty.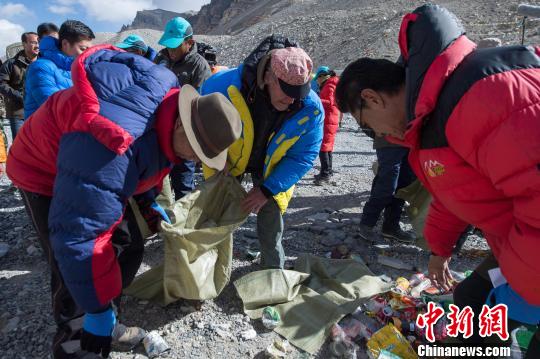 Photo shows climbers remove trash and waste from the north side of Mt. Qomolangma. [Photo/China News Service]
Related News
;  

Starting May 1st, all scenic districts at level 3A or above in Tibet (with the exception of Potala Palace due to full capacity) will offer off-season pricing through June 30th.

 

Photo taken on April 6, 2018 shows flowers bloom along the Nyang River in Nyingchi, southwest China's Tibet Autonomous Region.

 

Monitoring took place from January to March 2018 and covered an area of about 300 square kilometers in the Nujiang River Valley. 20 infrared cameras captured a total of 56 images of snow leopards.