Tibetan undergraduate: national policy benefits my hometown
2018-03-26 10:47:51 | From:China Tibet Online
"I think it's a great idea to accelerate the construction of the South Asia Channel, as part of the 'Belt and Road' initiative," said Paldan Tsewang, a junior majoring in journalism at the Minzu University of China, when talking about the proposal put forward by political advisory members from southwest China's Tibet to the recently concluded annual session of the National Committee of the Chinese People's Political Consultative Conference.
Paldan Tsewang came from Shigatse. In his view, the "Belt and Road" initiative will help promote economic and cultural exchanges between Tibet and India, Bhutan and Nepal.
He also mentioned the changes in his hometown. Taking transportation as an example, in the past, it would take seven to eight hours on a long-distance bus from Lhasa to Shigatse, while nowadays it only needs less than 3 hours after the Lhasa-Shigatse Railway put into service in 2014.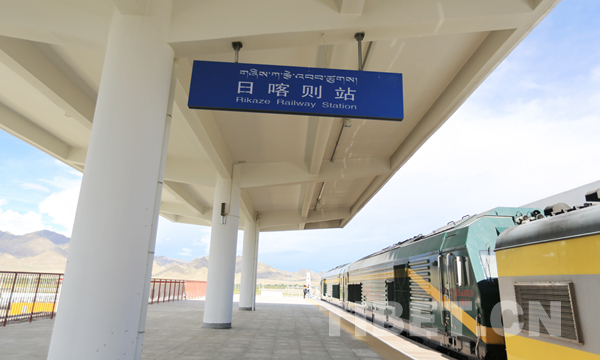 The Shigatse railway station
As of the end of 2017, there's a total of 89,504 km of highways across Tibet, and the Lhasa-Nyingchi Railway is also under construction. Besides Lhasa, airports in Chamdo, Nyingchi, Ngari and Shigatse have also been built.

The construction of the transportation network has brought not only faster travel but economic development as well. Paldan Tsewang's village has seen major changes in recent years. There were almost no cars before, nowadays, the 40-plus households in the village own more than 30 cars.
At the same time, people's ideas are also changing. As Tibet has fully implemented the 15-year free education policy, Paldan Tsewang said that people in his hometown are more willing and more motivated to send their kids to universities for further study.
Editor: Tommy Tan.
Related News
;  

Tibet has completed the screening of hydatid disease by the end of November, 2017. The disease database has been improved by adding rheumatism, AIDS, tuberculosis and other diseases to it.

 

The increasingly improved transportation infrastructure has allowed travelers to spend less time on road as they tour in Tibet.

 

Over the past 10 years, the Tibet Delegation, made up of delegates who are native to Tibet, have gone abroad on 16 official visits, traveling to more than 20 countries.