"Goddess Festival" – traditional festival for Tibetan women
2015-12-15 15:27:39 | by: Ellen Liu | From:China Tibet Online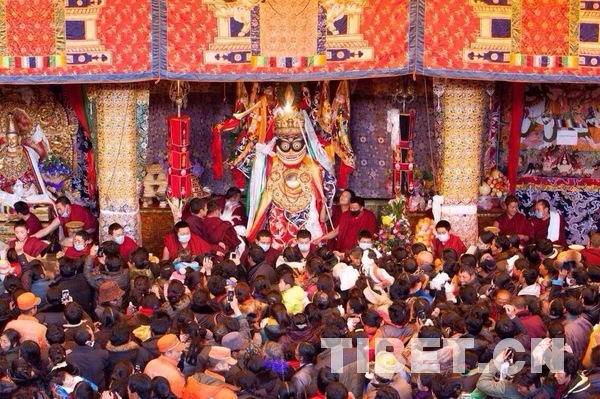 Tibetan women come to worship Palden deity on the "Goddness Festival" on Nov.26[Photo/China Tibet Online]
The 15th day of the tenth month on the Tibetan Calendar,which fell on Nov. 26 this year,is Tibet's traditional festival - the "Goddess Festival".
Legend has it that Pailamu was the goddess of Lhasa, and a daughter of the fierce female protective deity - Palden Lhamo. She fell in love with Tritsun Tsen,dharma protector of the Jokhang Temple and wanted to marry him. But her mother objected to the marriage and drove him to the south bank of the Lhasa River. Pailamu was only allowed to meet her sweetheart across the river on the 15th day of the tenth month. Tibetan women took a pity on her and come to worship her on this day very year. Hence the "Goddess Festival" came into being.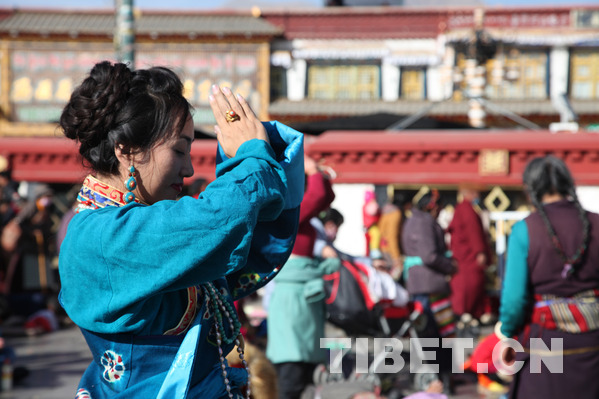 Tibetan women are praying in front of the Jokhang Temple on "Goddess Festival"[Photo/China Tibet Online]
On the day of the "Godess Festival", Tibetan women will get up early dressed in the festive costumes. Then they will go to the Barkhor Street to burn aromatic plants, offer the Pailamu deity Zanba (roasted highland barley flour) and wine, and pray in front of the statue of Pailamu for their daughters, sisters and all the females in the world to have good health, happy life and good fortune. They also hope that Pailamu will bless them with beautiful looks. It is said that on this day it is easier to fulfill their wishes thanks to the help of Pailamu.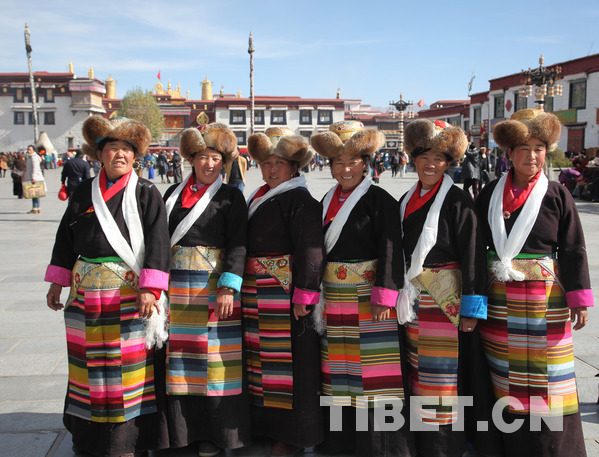 Tibetan women dressed in festive costumes on "Goddess Festival"[Photo/China Tibet Online]
Then Tibetan women will meet together to go out for fun in the city. Young girls will go along the Barkhor Street in small groups to ask for gifts of money from men. Most of the men will give some generously. Actually, it is not important whether they can collect money or not. To them, this custom is really more of a fun than the money itself.