Tibetan medical plants enrich local residents
2018-04-17 10:17:46 | From:China Tibet Online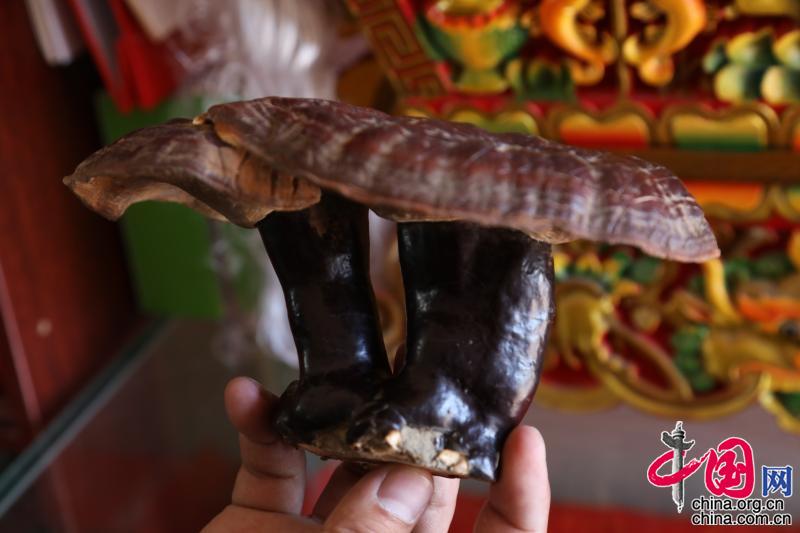 Geographical icon product: Nyingchi Reishi Mushroom
The reishi mushroom in Nyingchi,Tibet, a protected geographical icon product with white-flesh, is unique to the region. This kind of reishi contains more than half glucose and adenosine than that growing in inland China. In addition, the rhizoma in Nyingchi also contains a dozen times more rhizoma extract than the ones growing in other parts of China.
With a farming area of 160 mu(about 11 hectares), the Red Sun Scientific Demo Family Farm in Xueka Village of Nyingchi was opened by Nyima in 2012 after his family moved to Nyingchi from Shigatse. The farm mainly grows Tibetan medicinal plants and cash crops. With the farm, Nyima has not only enriched his own family, but also led the whole village make better living by planting reishi, rhizoma, Paris polyphylla, and other Tibetan medicinal plants.
Now, Nyima is one of the "technical specialists"trained by his township to teach other residents skills in planting Tibetan medicinal plants. Taking growing reishi as an example, it needs very detailed and comprehensive preparations, almost all of which are included in the bags of ganoderma lucidum. After Nyima packs the bags, he disinfects them, conducts manual cultivation, then places them in special cultivation rooms to complete the cultivation. After cultivation, the ganoderma lucidum are planted inside warm houses, and the residents only need to water and maintain them daily to harvest the reishi.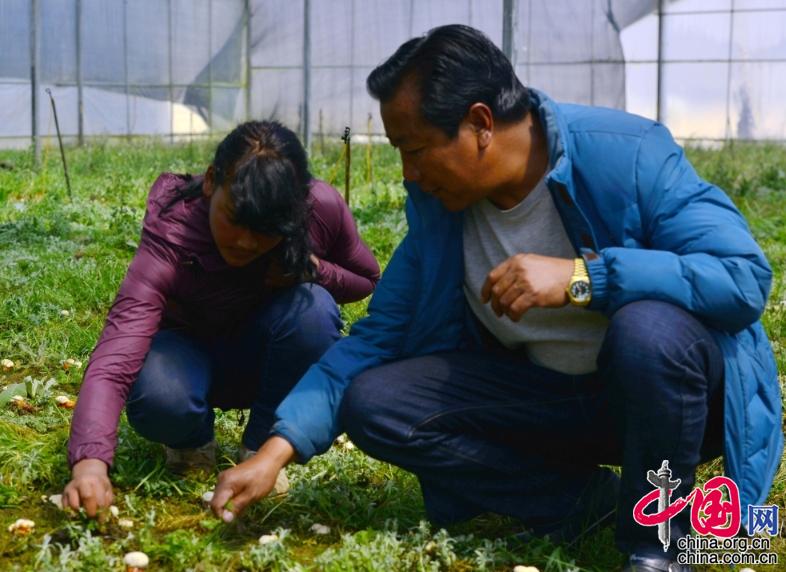 Nyima conducting volunteer teaching.
Nyima said he had already finished planting 300 thousand yuan's worth of ganoderma lucidum and this year's harvest should be very good. The entire Village of Milin could harvest hundreds of kilograms of reishi mushroom.
Currently, the Red Sun Family Farm has 38 warm houses. In 2017, the farm earned an income of 1.9 million yuan, with a profit of 400 thousand yuan. In addition to providing free skills training and free bags of ganoderma lucidum to impoverished residents, Nyima also provided many employment opportunities. Every year, he provides more than 30 jobs. The farm is also actively engaged in poverty-reduction work, offering aid to nearby residents.
Editor:Yanina
Related News
;  

At 2:30 p.m., Tashi Tso from Qinghai Tibetan Hospital put on a pair of disposable gloves and began to take samples of a batch of newly arrived Tibetan medicines.

 

Tashi Tso has to change into three different pairs of shoes a day: high heels before entering the office, canvas shoes at work and white rubber soles in the manufacturing room.