Tibet has lowest non-performing loan rates
2015-12-29 09:22:52 | From:China Tibet Online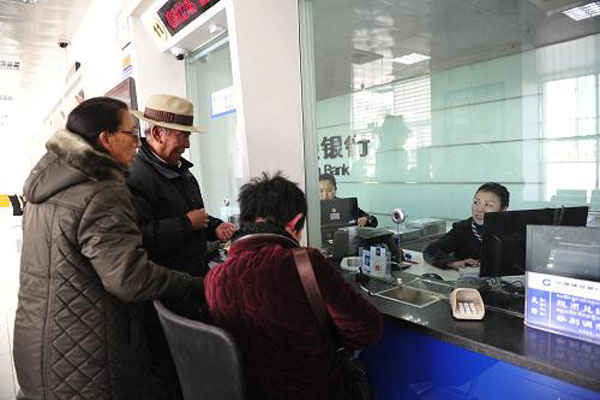 This year, outstanding loans of financial institutions (local and foreign currency) in Tibet exceeded 200 billion yuan (32.2 billion US dollars) for the first time, effectively satisfying the financial needs of rural production, mid-range and small-scale businesses, and key state construction projects.
Non-performing loans of banking and financial institutions in Tibet exceeded 700 million yuan (112.9 million US dollars). The rate of non-performing loans fell from 0.4 percent last year to 0.37 percent now, the lowest in the country. After excluding policy banks, the non-performing loan rate of commercial banks in Tibet is 0.23 percent.
At the end of November, there was 205.8 billion yuan (33.2 billion US dollars) in various outstanding loans for financial institutions (local and foreign currency) in Tibet, an increase of 31.26 percent, and more than six times the number at the end of the 11th Five-Year Plan (2006-2010). Among them, agriculture-related loans and outstanding poverty-alleviation deductions increased by 7.46 and 15.11 times, respectively, compared with the levels at the end of the 11th Five-Year Plan.
Zhang Wei, vice-president of the People's Bank of China Lhasa Branch, said, "Since this year, financial institutions in Tibet have continued to carry out special favorable monetary policies as directed by the central government. Financial institutions lending rate cap is still implemented to control Tibet's lending rate ceiling. The main feature of the market financial structure is still indirect financing, while loan financing is maintains the leading position. Last year, Tibet's loans growth ranked first in the country, and financial services have improved significantly."
Related News
;  

Credit rating policy rolled out by Agricultural Bank of China has allowed farmers to expand their operations and increase annual incomes

 

A hydropower station planned for southwest China's Sichuan Province received 53 billion yuan (about 8.5 billion U.S. dollars) in loans Friday from seven domestic financial institutions, company sources said.

 

Villager Gyama applies for a loan at earthquake-hit Talaxia Village of Jiaba Township in Kangding County under Garze Tibetan Autonomous Prefecture, southwest China's Sichuan Province, Nov. 23, 2014.