China's 1st Tibetan music industry base opens
2015-12-28 15:06:32 | From:China Tibet Online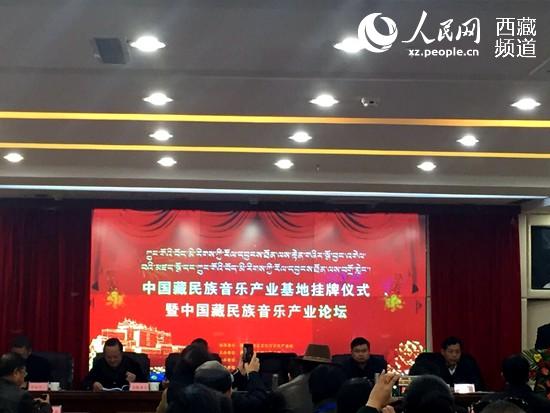 China's first Tibetan music industry base opened in Lhasa, capital of Tibet Autonomous Region, Dec. 26, people.cn reported.
Many musicians, composers, and singers from Tibet and Tibetan-inhabited areas in other four provinces including Sichuan, Qinghai, Yunnan and Gansu gathered to attend the unveiling ceremony.
Renowned Tibetan singer Dukar Yak believed that the establishment of the base is of great significance. It would be able to help Tibetan musicians in their musical exchanges.
Zangpo, associate director of the Tibet Cultural Bureau, said that with social economic development, there's major transformations in music creation and dissemination, giving Tibetan music room to grow in the process.
As for past problems in Tibetan music development: lack of scale, focus, originality, and a complete copyright system, Zangpo said the operation of the music industry base would help solve these problems.
On the same day, in addition to the Chinese Tibetan Music Industry Base, Tibet would also host a forum on Tibetan music industry.
Related News
;  

The grand Tibetan musical "Yarlung Zangbo" premiered at the Yarlung Theatre in Lhoka Prefecture of southwest China's Tibet Autonomous Region, August 15, 2013.

 

Sometimes it takes a bit of exploration and discovery to retrace our roots. After over a decade living away from home, Tibetan singer Tashi Phuntsok decided to return to his native town of Lhasa and buy a bar.

 

A large-scale Tibetan musical drama titled "Himalaya" was staged at the Cultural Palace of Nationalities in Lhasa, capital of southwest China's Tibet Autonomous Region, April 14, 2013.