Multicultural pop star Sa readies for national tour
2015-12-15 15:45:11 | From:China Daily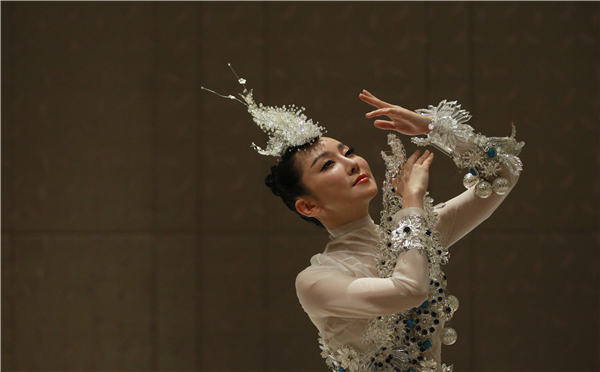 Pop singer Sa Dingding continues her experiment in blending multicultural elements in her latest album, The Butterfly Dream.[Photos by Zou Hong/China Daily]
Sa Dingding is among the few Chinese pop stars who have grabbed the attention of Western audiences.
Her 2007 album, Alive, on which Sa performs in Mandarin, Tibetan, Sanskrit and a self-created language, won her the BBC Radio 3 Awards for World Music for the Asia-Pacific region, a first for a Chinese pop singer-songwriter. The same year, she performed at the Royal Albert Hall in London.
And her next two albums - Harmony and The Coming Ones - continued to win her global recognition, boosted by performances at music festivals like WOMAD Festival and Harrogate International Festivals in the United Kingdom.
For the audiences in her homeland, however, she is still a mystery.
The singer's latest album, titled The Butterfly Dream, aims to change that by reintroducing her to Chinese audiences.
Based on a famous anecdote by the ancient Chinese philosopher Zhuang Zi, the founder of Taoism, the album was released on Nov 20 and features 10 songs that express Sa's views about the thin line between dreams and reality.
Zhuang Zi dreamed about being a butterfly, and upon waking, he wondered if he was a man dreaming he was a butterfly or if he was a butterfly dreaming that he was a man.
Sa says she lives on and off the stage, as if between illusion and reality.
"I enjoy the glamour onstage, but without the limelight, I am just an ordinary woman," says the 32-year-old, who will start a national tour early next year. "I am aware of the fame I got abroad and I also know that my music is not mainstream in the domestic market. But I believe audiences will have a different feeling about this album."
Continuing her style of blending cultural elements, she invited Karsh Kale, an Indian-American musician who has written songs for Sting and Norah Jones, to be the producer.
While being asked to introduce the character that he plays, the leading actor Li, a heartthrob for the country's many young women, thought highly of it.
"I think he is very enthusiastic about music and is really dedicated to his career. He wants to bring innovations and changes to the music field, so I would like to say he is not just a singer. He is an artist. Meanwhile, he is also very courageous to pursue true love."
Tony Chan, the director of the movie who is a veteran Hong Kong movie maker who specializes in romance, said the movie tells the tale of underwritten rules in Chinese showbiz, and he hopes it will encourage young women to pick up their courage to seek true love.
Speaking of his two-year collaboration with Sa, his first with a Chinese musician, Kale tells Rolling Stone India: "At first I was hesitant when I heard Chinese pop, but when I found out who Sa Dingding was and checked out what she had done, I became excited.
"After realizing that she, too, is part traditionalist and part futurist, the possibilities became very intriguing for me as a producer."
During an October performance at London's Lancaster House with President Xi Jinping and his wife, Peng Liyuan, in the audience, Sa shared the stage with the National Youth Choirs of Great Britain and a choir from Xiaoshuijing village, Yunnan province, which comprises ethnic Miao people and ethnic Yi dancers. She mixed two of her hits, Joy Festival and As the Shadow Follows, with Beethoven's Ode to Joy.
Sa says: "We prepared about six months for the four-minute performance. It was such a magnificent view when different cultures merged on one stage."
Sa was born to a Han father and an ethnically Mongolian mother. She graduated from the People's Liberation Army Academy of Art in Beijing and rose to fame after winning second place in the pop music performance category of CCTV's National Young Singers Competition in 2000.
At 18, she was considered one of the country's best dance-music singers after releasing her debut album, Dong Ba La, in which she performed electronic dance music.
However, she boldly decided to withdraw from the music scene and embarked on a roots-searching journey, traveling to Xilinhot of North China's Inner Mongolia autonomous region, where she grew up with her grandmother until moving to Jinan, Shandong province, at age 6. She had missed the nomadic lifestyle, in which she enjoyed singing freely.
"Compared with dance music, I found those sounds much more comforting and healing. From then on, I want to make music that connects with people spiritually," she says.
Now living in Beijing, Sa says that her life is simple, "having three meals a day, taking care of my family and traveling".
As for her musical ambitions, she says: "I want to be the kind of singer-songwriter who can pass on energy."
Editor: Ellen Liu
Related News
;  

Michael Jackson's fans around the world were struggling to grab advance tickets for the late popstar's rehearsal-footage film "This Is It," Sony Pictures Entertainment said on Monday.

 

On the opening ceremony of 2009 Lhasa Shoton Festival on August 20, Zhao Wei, a famous Chinese actress and Chen Haomin, an actor, performed on the ceremony.

 

Pop singer Sa Dingding continues her experiment in blending multicultural elements in her latest album, The Butterfly Dream.