Butter-lamp Day
2015-12-07 16:28:02 | From:China Tibet Online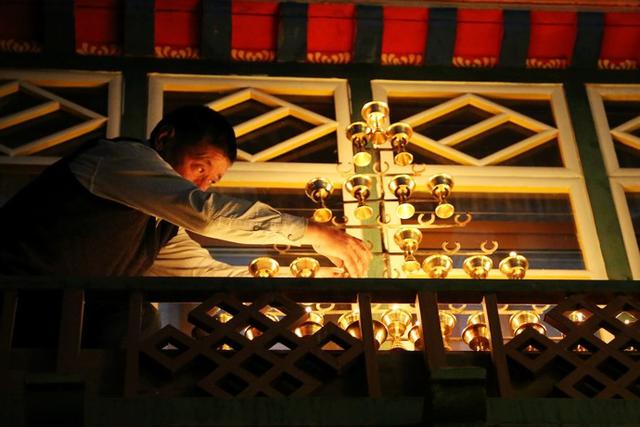 The Butter-lamp Day is celebrated in Tibet on the 25th day of the tenth month on the Tibetan calendar to commemorate the death of Tsongkhapa, founder of the Gelug Sect of Tibetan Buddhism.[Photo/China Tibet Online]
The Butter-lamp Day is celebrated in Tibet on the 25th day of the tenth month on the Tibetan calendar to commemorate the death of Tsongkhapa, the founder of the Gelug Sect of Tibetan Buddhism.
It is also called the "Illumination Day" or "Ganden Ngachod" in Tibetan language. On this day, monasteries and believers of the Gelug Sect would light butter lamps in the scripture halls and on the windowsills day and night as a religious offering to the great Buddhism master Tsongkhapa since he passed away in 1419.
The origin of the "Butter-lamp Day" is related to Tsongkhapa's second disciple Khedrup Je Geleg Palzang, who is also the first Panchen Lama.
Khedrup Je Geleg Palzang spent most of his time in the Tsang part of Tibet (today's Shigatse area) preaching Buddhism. One year before Tsongkhapa's death, he was still invited to superintend the construction of the Palkhor (Pelkor) Chode Monastery in Gyantse (nowadays Shigatse area).
Khedrup Je was not with Tsongkhapa when he passed away, so he handed down his cassock (mantle) and alms bowl to Gyaltsab Je, Tsongkhapa's first disciple, and appointed him to be the abbot lama of the Ganden monastery, which meant Gyaltsab Je would be the leader of the Gelug Sect.
When Khedrup Je heard the death of Tsonkhapa, he also learned that his senior Gyaltsab Je had been holding a butter-lamp ritual as an offering ritual to commemorate the great Buddhist master. But, in Shigatse and within a short time, he couldn't collect so many burners and yak butter. So he used cattle hooves and yaks' fatty oil instead.
The day is also a day to expiate the sins and repose the dead cattle.