Tibetan carpet leads ethnic handicraft industry of Tibet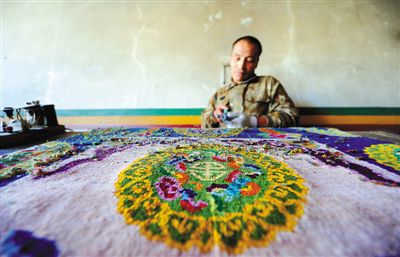 Photo shows a worker is trimming a traditional Tibetan carpet in the Namtso Carpet Co., Ltd. of Nagqu Prefecture, southwest China's Tibet. In recent years, Tibet has focused on the development of ethnic handicrafts industry, and actively explores domestic and foreign markets. With the continuous expansion of market, Tibetan carpet gradually becomes a leader in a large number of Tibetan handicrafts products. [Photo/Xizang Daily]
Editor: Tommy Tan.
;  

Photo taken on April 6, 2018 shows flowers bloom along the Nyang River in Nyingchi, southwest China's Tibet Autonomous Region.

 

Newly discovered cliff carvings in eastern Tibet may offer a glimpse into Buddhist art and local history from 1,200 years ago.

 

In Tibet, digital reading has also become popular, with more and more people using cellphones, Kindles, or other mobile devices to read digitally.